---
Frank DeFreitas | Allentown, Pa | Tel: 610-434-8236


Visitors by appointment. Private instruction. Outreach. Since 1983.
---




Genesis DNA Hologram Beacon from futuretech on GodTube.

ABOVE: Play Video to see Free-Space Laser Communication Broadcast.



Publishing Notes
Updated 15 April 2014


HoloWorld went online on Tue, 04 Dec 1993 21:29:02 GMT. Today, it is referenced by many web pages and in-print publications. It was created by now semi-retired, American holographer Frank DeFreitas (bio). For over 30 years, holography enthusiasts from around the world continue to make the pilgrimage to his home studio located in the small American town of Allentown, Pennsylvania. If you need to learn about holograms, you have come to the right place: how-to articles, podcasts, galleries, history, videos, and more. Sit back, relax, and enjoy your browsing. If you like what you see, please share HoloWorld with others.


Student Study Guide:
Lasers, Holograms & Photonics
Lasers, Holograms & Photonics
(download)
Here is an 18-page study guide (PDF format) and homework helper that will give students a good foundation with lasers, holograms and the field of optics / photonics. It provides definitions, a timeline of events, biographies of inventors, along with current and future applications. The future is made of LIGHT, and those who are able to understand and work with light will pave the way for the photonics-based laser communications superhighway. You will need the Adobe Acrobat PDF reader for this file.

Visit Me in Allentown, PA

I have over 20,000+ items in my history of holography collection. After collecting for over 35 years, I began putting them on display and people started visiting from around the world! My exhibit for 2014 is: 150 Years of Christian 3D: from Stereo Photography to Laser Holography. This is an exhibit that documents the relationship between Christianity and nearly two centuries of cutting-edge 3D imaging science and technology. Everything in this current exhibit is centered around the life of Jesus Christ. "There is nothing else like it in the world today". -- Frank DeFreitas


Who Is Frank DeFreitas?
You wouldn't go into a strangers house, would you? I didn't think so! Web sites are no different! Before you begin your visit here at HoloWorld, take a few minutes to learn about your host (me), and my over 30 years of award-winning service to the laser and holography fields of art, science and technology.


Emerging Technologies
& the Great Commission
My Christian-based Work
with Lasers and Holograms
Holograms are not just about 3D images. When holography was invented, the 3D aspect was a "side-effect", not a main objective. The REAL future of holography will be its many technical applications. Here are a few of my recent projects utilizing lasers and holograms in a slightly different than usual way: making sure that the Gospel is taken far into the future ...


Introduction to Micro Holography
(download)

Here is an introductory 12-page PDF file with photos that gives a bit of history behind holographic microscopy -- and microscopic holography (there IS a difference!). I wrote this for the British online magazine Micscape for September 2013. You will need the Adobe PDF reader in order to read this document.


The Genesis Hologram (web page)

Coming soon ... 2014 project ... a 3D laser hologram of human DNA will also transmit a carrier beacon of light containing audible Morse code of the first book of Genesis. (Genesis is the root word of today's scientific gene and genetic). In the beginning, God created the heavens and the earth... Certainly my most conceptually challenging piece to date.


The Hologram Bible (web page)

The Hologram Bible contains all 1,245 individual pages, and 773,746 words of the King James Bible. It is the size of an average snowflake. Its mission is to one day bring Scripture to areas of the world where the Christian Holy Bible is banned. Its size is just the beginning of what makes it different from every other Bible in the world today. Seen by thousands.


World's Smallest Lord's Prayer (web page)

Is this laser hologram the 'Greatest Hologram on Earth'? The width of a single human hair, I propose that this is the world's smallest rendition of the Lord's Prayer in the world today. It contains its own magnification optics encoded into the hologram itself. Reported in many top newspapers across the USA and NBC 10 (Philadelphia) in Sept. 2013, and shown in many science museums and expositions including the Smithsonian and the New York Hall of Science. Seen by tens of thousands.
3D Life of Jesus (@ Flickr)

Holograms may be the best 3D today, but they weren't the first! Taking over a full year to complete, this gallery shows the earthly life of Jesus in 3D. Viewable on any computer screen, these anaglyph pictures were hand-created from vintage stereographs. Some go back to the 19th century! To view them, they require the standard red (left) / cyan (right) 3D glasses. If you do not have a pair of glasses: I will be happy to send a pair to you (USA only) without charge. Just call, write or email with your postal mailing address HERE.


Holography Workshops & Outreach
My RETRO / VINTAGE HOLOGRAPHY workshop program focuses on the way holograms were made in the very early days: gas lasers, gelatin silver glass plates, wet processing, hand-made optical components and vibration-isolation tables. This is laser holography at its DIY best.


Holography for Kids
This is the original online laser and hologram science learning page for students. Today's youth are the future of this emerging technology. A great resource for home schoolers, too. One of the few laser and hologram resources online that is put together by someone with 30+ years of real-world holography experience. Be safe and be sure right here.


Hologram of the Moon
Blue Ribbon Winner, New York Hall of Science, 2011.
In 2011, I produced an award-winning 3D laser hologram of the moon. It was (and remains) one of my most ambitious holography projects. The two ground-based, telescopic photographs that make up this 2-channel holographic stereogram were taken 150 years apart.


3D MPO Voyage to the Moon (Le Voyage dans la Lune)
Download these 3D MPO files and journey on your own Voyage to the Moon (3D Le Voyage dans la Lune). I've taken 16 of NASA's most famous Apollo program stereo photographs and made them into digital files for today's 3D hand-held devices (Nintendo 3DS, Fuji Real 3D and SONY PS3). You will think that you are standing right on the edge of craters on the surface of the moon. Featured as a Pick of the Month in 3D Focus magazine, December 2011.


Make Your Own Victorian Stereoscope
Holograms are the ultimate in 3D, but long before laser holograms arrived on the scene, people enjoyed 3D images through the Victorian stereoscope. On this page, I show how I assembled one of the DIY kits available today to hobbyists and makers. It is also relatively easy to make your own stereoview cards to view in the stereoscope.


Holography at Planet Saturn
Do you like astronomy? Do you like the great planet Saturn? Take a moment to read a fantastic story. It is the extraordinary (and true!) story about having my name on the surface of another heavenly body: Titan, the famous moon of the planet Saturn. It was the first landing ever accomplished in the outer solar system. If you love space, you'll love this story . . . and you'll never look at Saturn the same way again.


How To Make A Hologram
Want to know how to make a hologram? Step into my laser lab and see how it is done, with step-by-step DIY photos. All of it possible in your own home or school. You can print out this page for reports and homework.


My Holographic Light Art
Abstract art created by passing light through holographic optics and quartz crystals known as Cape May Diamonds. Shapes, colors and patterns never before seen are revealed, after being encoded in the crystals since their creation. Includes my holographic light art gallery.


What Are Lasers Used For?
Perfect for reports and homework, this web page gives students of all ages a printable list of what lasers are used for today. Laser technology is all around us in our everyday living. Find out just how much this is true.


Making Holograms with Laser Pointers
Diode laser holography didn't begin in a professional laboratory, it began in three basement labs -- and was documented every step of the way right here at HoloWorld. Here are the original project notes from start to finish. Includes the world's first hologram created using a solar powered laser. I am honored to have been part of this holography history.


Memories of Edmund Scientific Co.
Share my memories of the once-great Edmund Scientific factory store in Barrington, New Jersey. In 2012, I will be adding photos of all of my Edmund memorabilia, going back to the 1960's. Includes info. on their famous Light Show Theater. Enjoy!


Collecting Holograms
The ultimate (and original) guide to laser and holography collectibles. Covers everything from holograms to advertising to posters and post cards (and more). For nearly twenty-five years, this guide continues to be an inspiration for people all over the world to begin their own collections.


The First Twenty Years
This section shows twenty holograms from the first twenty years of my studio / lab in Allentown, Pa. Each piece is accompanied by an audio file describing the work. Years covered are 1983 through 2003.


Holographic Universe & Positive Thinking
My published article on holographic principles and positive- coherent thinking. I keep it updated, current and revised online. From the Holo-Gram newsletter, and the Laser Arts Society journal (long before the Internet).


Holography Internet Radio Show
"HoloTalk" began broadcasting online in 1997 (!) with its now-famous mix of interviews and topical discussions, the show features host Frank DeFreitas and guests from around the world. For nearly fifteen years, listeners made "HoloTalk" a part of their online routine. Over 100 shows are now available in the MP3 archive.


Holography E-Zine
Download a back issue of HoloWorld: The E-Zine of Popular Holography. Each issue contained news & information, tips & tricks, history, reviews, net treks, and more.


The Civil War Holography Project
See this exciting Civil War holography project with students of Englewood High School in Jacksonville, Florida. Priceless treasures have been at the bottom of the St. Johns river since 1864. These historical artifacts are now recorded as holograms. Includes PBS video.


Careers in Lasers, Optics & Photonics
Now that you've begun to explore the world of lasers & photonics, you may be wondering if this could fit in with your future career planning. Absolutely! In this section, I'll give you some information on things to consider when you're exploring careers in general. I'll also share some Internet resources that can guide you in your search for careers in the field of lasers and photonics.


How to Create Your Own Hologram Portraits
An in-process, step-by-step guide for amateurs and hobbyists for creating your own hand-made DIY portraits and stereograms.


The Holography Link Page
Links to other sites about lasers and holograms on the Net.


Email List
Join the HoloWorld Email list and receive updates on laser and holography activities.


Contact Information
Contact information for postal mail, phone and e-zine.


---
"Where there is no vision, the people perish."
-- Proverbs 29:18

"Science is the study of the physical manifestations of God in action."
-- Frank DeFreitas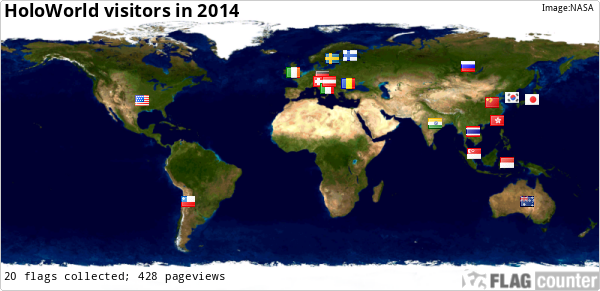 Flag Counter started on January 1, 2014.


Rated Family Safe by RSAC.org